One common misconception people have about on-page SEO is that it only requires pouring in a few keywords here and there… Not exactly!
Well, that's not to say that keywords placement is not important, but nowadays, search engines are smarter, so it takes a lot more to get the on-page optimization results you need to generate organic traffic. In this article, you will learn some SEO basics, including well-detailed on-page SEO guides to help you achieve the best optimization results for your website.
Why Should You Do On-page SEO (Search Engine Optimization)?
As far as online visibility is concerned, you need to optimize for search engines while at the same time creating valuable content for your readers. According to research, an SEO-generated lead is eight times (8x) more likely to be converted into a paying customer than a lead generated via regular ad campaigns.
While most search engines consider both on-page and off-page SEO as the ranking factors for a website, on-page elements remain more critical in getting higher search rankings and driving more organic traffic.
This is because top search engines like Google use advanced algorithms like Natural Language Processing (NLP) to crawl web pages in search of the most relevant keywords and other relevant search results for a related query.
Hence, if, for instance, your page is about automobiles and you fail to mention different brands of cars and trucks, then your page won't rank because Google will surely find more relevant pages out there. To avoid these, you need on-page optimization.
Another factor that makes on-page SEO important is that it is relatively inexpensive, considering how much traffic it drives.
Mastering On-page SEO — What You Need To Do
As you should know, achieving the best optimization result is key to higher search engine rankings and consequently quality organic traffic. However, these successes start with mastering on-page SEO. Note that on-page SEO is only one of the four major SEO techniques that you need to implement in the long run. Here are some reliable steps to follow in that regard:
1. Intensive keyword research
Keyword research is the very first step as far as on-page SEO is concerned. As a matter of fact, one crucial ranking factor on search engine results pages is to choose the right target keywords to optimize with.
The reason is to satisfy the search intent of potential customers since Google's algorithm has improved over the years to the extent of selecting pages that best match search intent and ranking them above other websites.
Hence, you have to place yourself in the shoes of your audience; understand the terms they use while searching for the product or service you render.
The four major types of search intent for which your audience make queries include
Informational intent
Commercial investigation
Navigational intent, and
Transactional intent
Informational intent covers those queries made by people who are only seeking to gather information. For example, information on weather forecasts, population growth, climate change, et cetera.
Navigational intent is when people search for a particular website on Google for the sole purpose of visiting the site. For example, people who search for Instagram or Facebook on Google simply do so to "navigate" to their Instagram or Facebook page.
Thus, optimizing your business website for navigational intent will allow your audience to find your page once your business name is written into the search box.
People also search for transactional intent: This is the kind of query a potential customer makes when they want to browse the web to discover the best purchase.
Search Volume
Another important aspect of keyword research is to find out the search volume of the target keyword; whether you're targeting short-tail or long-tail keywords, you need to be sure if your users are likely to type in those keywords. If not, there's no use. You can find results regarding this using a keyword research tool like Google's Keyword Planner.
Keywords with high search volume are highly competitive, and it will be difficult to rank for them. Make sure to consider if such competitive keywords are worth your time; otherwise, focus more on less competitive ones.
Some keyword tools like SEMrush, Ahrefs, SurferSEO, and others can help you figure out the keyword difficulty of the focus keyword/phrase you intend to rank for.
2. Quality Written Content
Quality content is another key factor that every SEO enthusiast simply can't overlook. For content to be considered well-written, it must meet certain criteria.
Keep It Simple
To create content the right way, you have to keep it simple. Ensure your choice of words is not too difficult to grasp; avoid unnecessarily industry jargon. Write for grade 5 pupils, no matter what industry you are in.
Adopt An SEO-Friendly Structure
A well-structured article or blog post will not only impress search engine bots but will also make it easier for your audience to navigate through the page and find the information they seek. No user likes reading a wall of texts!
For proper structuring, make sure to use the right headings (H1, H2, H3, and H4) when necessary and where applicable. Also, ensure to break that wall of texts with the right number of paragraphs and apply where required.
Write Unique But Relevant Content
Google's AI bots also take note of the uniqueness of content; hence, keeping your content unique and relevant could be a deciding factor when it comes to ranking.
3. Adding Visuals (Images And Videos)
Every industry expert understands the importance of visuals in content creation as far as on-page SEO is concerned. For instance, adding images to your content can help it rank in Google image search (where images are part of the user intent).
It's also recommended to add videos, especially if the targeted keywords rank as a snippet from a YouTube video. What this implies is that your audience requires more visual aids which your content has to satisfy before it ranks.
It also helps to create video and picture content on channels like Pinterest, Youtube, Tiktok, and many others to drive sales from other channels to your website.
Meta tags are becoming an aspect of SEO you just can't ignore if you want your website to be on the first page of Google.
The main function of a Meta tag is to provide extra information to Google about your page whenever a query is made.
Meta Description
A good example of a Meta tag is meta descriptions. A page's meta description appears in results pages in form of a brief definition of your website and the services that your business provides.
Meta Title/Title tag
Meta title (otherwise known as a title tag) simply refers to the captioned texts displayed on result pages that suggest the topic of a webpage.
Title tags don't only help search engines to understand what the page is about but also help searchers to know if the content of the page matches their intent.
PRO TIP: According to experts, writing a compelling meta description and title tag is a much easier on-page SEO tactic that can drive more traffic. This is because you are able to drive traffic from the image section of Google as well.
5. Adding Image Alt Text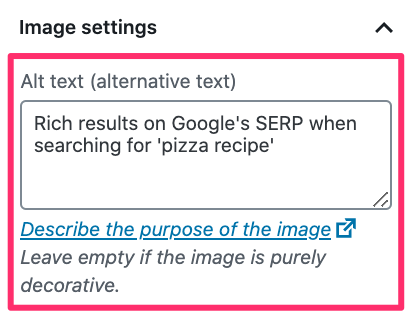 One of the common on-page SEO tips you'd always come across is the image alt texts that are used to describe images.
Alt texts are important on-page elements since they appear in the place of images if the images fail to load. This can especially help screen-reading SEO tools to describe images to the visually impaired.
PRO TIP: although as part of off-page SEO, search engines consider how many sites link back to your website to determine your authority and ranking, it is always easier to drive more organic traffic via on-page SEO like adding image alt text.
6. Mobile Responsiveness
Your webpage obviously needs quality content, the right keyword volume, internal links, images, videos, etc to rank. But to a large extent, it all depends on the mobile responsiveness of your page. This is especially if you consider the fact that most people today access the internet via their smartphones.
Judging by Google Analytics reports, you will notice that Google is typically built for users – for people who browse the web. Therefore, in a world where those web users mostly access the web via smartphones, Google would typically act accordingly and favor those websites that meet the needs of Google users who mostly browse the web with mobile phones.
In other words, Google would rank websites that are optimized for people using smartphone devices.
7. Site/Page Speed
The direct result of setting up your website for mobile friendliness is a sharp increase in the speed and accessibility of the site.
The importance of speed to your website cannot be overemphasized since it decreases bounce rate and boosts usability. Needless to say, these two factors are key to a high SEO ranking.
8. Well Organized Mark-up
Schema markup is one of the evolutionary trends in SEO which when placed on your website would help search engines bring back more informative results for internet users.
Schema Markup provides well-structured data in search results which is a format search engines understand better. In other words, Schema markup enables you to easily convey your content to Google so it can feed your information to relevant searchers.
That's why a well-organized markup will not only boost your on-page SEO content but will also increase your click-through rate.
9. Link building
Outbound links, inbound links, and internal links are all important aspects of on-page SEO. How many links from authority websites are linking to your website? How many of your page links are pointing to authority sites? All these combine to help your website maintain rich link equity that translates to increased website authority.
Although link building is argued to be an off-page SEO technique, it is just as important to on-page SEO as well.
Bottom line
SEO can be done in form of on-page or off-page. Each of these two broad methods of optimization is crucial to boosting the chances of your website being on the same page with top ranking, high-authority pages.
However, if you want an easier, less time-consuming, and less expensive means to rank high, then you have to stick to the steps provided in this article for the best on-page SEO result. If you're running a startup, you have to read this SEO guide we have created specifically for startups.