Do you still solely depend on just one type of marketing? Would you like to reach more customers and increase sales? Of course, this is every entrepreneur's aim.
Most marketing strategies now adapt to digital marketing, which is plausible. The rise of the digital revolution has transformed how enterprises render their services and also advertise. But what if you found out that traditional marketing still has a place in increasing your company's sales?
Integrating traditional marketing with digital marketing provides distinct traits that you can leverage across the selling process to reach your overall marketing objectives. With this, you'll notice a positive increase in the conversion of potential customers along the funnel. That said, it is important to note the differences between digital and traditional marketing strategies. One of our most popular articles gives more detail on that and you can find it here.
What is traditional marketing, and how does it work?
Traditional marketing is the oldest form of marketing. It is a type of advertising that delivers to a target audience via the old means of communication. Businesses use marketing channels, like newspapers, print ads, television, billboard, telephone, and direct mail to connect with their audience and increase offline promotions.
Even though tv advertising, brochures, and printed ads are old forms of marketing, they remain effective marketing tools for different companies.
While most people are online, this marketing still influences the industry because not everyone is always online. It is beneficial in enhancing your business, even if digital marketing surpasses it in many sectors. In addition, this kind of marketing helps to increase your target market in ways that digital advertising cannot.
One of the many benefits of effective traditional marketing tactics is that it's personalized. For example, humans cherish and save the flyers given during advertising campaigns.
Traditional marketing strategies are the most effective at leaving a lasting impression. As such, if you ask an older person about some popular television ads, he will remember and probably sing the song featured during the tv ads.
Regardless traditional marketing methods are becoming too old-fashioned since more than half of the world's population is online and prefers to buy things online. So, why not choose to target more audiences around the globe?
What is digital marketing, and how does it work?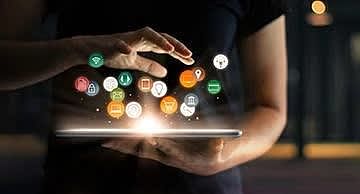 Inversely, the term "digital marketing" refers to promoting goods and services online. Digital marketing functions with the aid of digital channels, such as social media ads, website, email marketing, content marketing, and other online channels.
Because of new technologies and advancements, digital marketing has become popular. Promoted tweets and tasty meal videos are just a few instances of how vast digital marketing has developed. Even a simple Google search for "What is Instagram?" demonstrates the power of digital marketing.
Digital marketing is not only more cost-effective, but it is also a more straightforward means to reach target customers all over the world. In today's era, businesses cannot afford to stand without digital marketing since consumers now regularly engage in research and make purchases on the internet.
Social media marketing is also a part of digital marketing strategies, as people use social media platforms to order lunch, compare product prices, and book a counseling session.
With the right website, SEO techniques, and social platforms, your business may achieve worldwide recognition within a short timeframe.
Now that you have all of this information, which path should your business take?
Although organizations are more focused on digital marketing, they do not depend only on online marketing but use an integrated strategy. Besides, you might look for the best ways to locate the right audience through an integrated marketing strategy. To learn how this all can work together, read on!
What are the best ways to combine digital and traditional marketing?
Many companies have seen the need to combine two marketing tactics since there is a desire to create more comprehensive advertising campaigns that reach more individuals. However, if you're planning to mix traditional and digital marketing strategies, the following tips will help you get started.
Develop a combined marketing strategy
Take a break and develop the integrated marketing efforts of placing your company in the face of its prospective clients. This process has many components, requiring a great deal of analysis, planning, and study.
Develop the marketing strategy based on the company's present goals, brand identity, mission, and messaging. Such a strategy must include your firm's unique selling proposition and how you intend to communicate it (digital communications or traditional).
Next, evaluate yourself if you have gotten adequate knowledge about the industry. Also, check if you can make accurate choices regarding the best marketing strategies. Or do you see a need to conduct some market research?
Link your traditional advertising with digital websites and pages
Traditional marketers are now aware of the importance of television ad campaigns combined with website and social media accounts. When you place an excellent tv advert and include your website, it'll grab the attention of a large audience.
But before then, you need to evaluate the social media pages that will create awareness with social media marketing. There must be a simple strategy in place for all advertising materials.
It could be a website address containing your business information, such as white papers, blog posts, or testimonials. We all know that this type of online content is excellent for attracting an audience, fine-tuning messaging, and showing competency in performance. You could also do the same on billboards.
Include QR codes in publications
Irrespective of technological advancements, most people still read news publications. Thus, when you provide a QR code in newspapers and printed ads in magazines, they'll easily view your page. Even though some don't buy, they will get to read it in a dentist's office or public place like many others. This method remains an effective option that makes sense for your business.
Provide digital tools
In recent years, another traditional channel that has received a noble name is direct mail. Even though some consumers prefer to receive mail from businesses they patronize, new digital tools help perform better direct mailer campaigns. With this, you can send out marketing messages that direct them to your website with an offer, just like a special discount. But be careful not to send direct mail that is not appealing enough or else it will be a complete waste of time and effort.
Take public relations into consideration.
One of the best things about combining traditional and digital PR is that you can frequently receive both print and broadcast publicity and online visibility. The priority in digital public relations is still on generating quality, engaging content. A public relation strategy can help you promote your business at a minimal cost and keep you ahead of the competition. The following questions will help to manage the public perception of your company:
Is our company a leader in the market?
Do we take part in community service?
Does our product or service stand out from the crowd?
Do we have an innovative technology?
If you answered yes to any of these questions, you might have a great tale to tell the public. Meanwhile, with the introduction of digital space, it is now necessary than ever to be cautious about your claims and actions regarding your organization. Always be truthful and let your advertising back up your claims.
Promote local events online
Integrated marketing aims to enable the sales team to establish client opportunities and heat the conversation before making contact. It's a good idea to create a Facebook event page. Invite your followers to use the page extensively to increase engagement. You can communicate with the members using Twitter and other handles. You can even make your business event trend on your platforms or topic by using the event hashtag.
Customers outside your local market will then discover you online and be knowledgeable about your items. Your team must be competent in making more sales in new and potentially distant markets with no physical interaction. There should be thorough awareness of all the contents delivered to consumers via various marketing platforms. In addition, they must be ready for common queries and concerns from these potential clients.
Conclusion
To sum it up, online advertising has grown in recent years and has become more popular than traditional advertisement. This is because of various advantages, one of which is marketing success over cost. Digital marketing strategies integrate when customers receive calls to action that make them hop from one marketing channel to the next easily without even realizing it. However, intelligent business owners combine both marketing strategies to build strong bonds between potential clients, leads, and prospects.
Combining traditional and digital marketing efforts will entice consumers in their preferred channels, thereby boosting your chances of meeting business objectives. Milia Marketing can assist you in broadening your market reach while focusing on the customers you want. We provide measurable outcomes that reflect your brand and assist you in meeting your objectives. Send us a message now!vvv