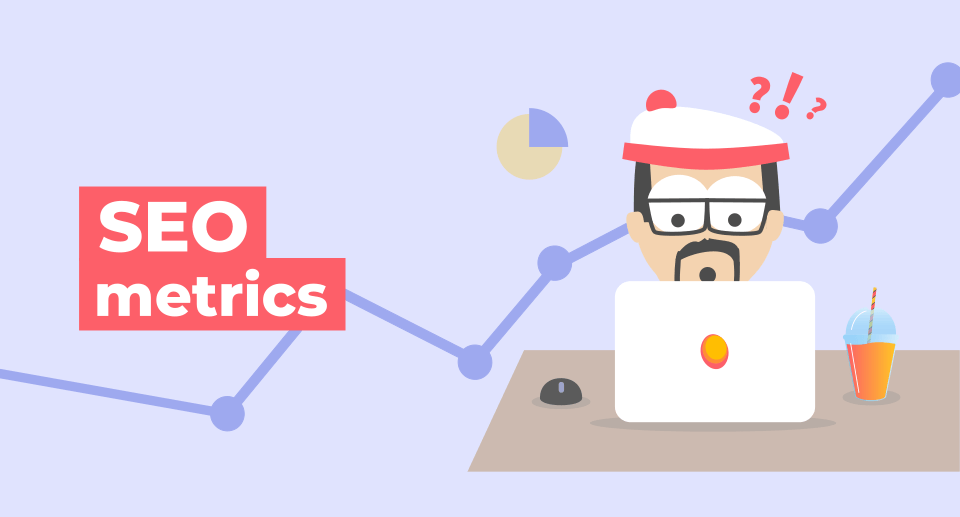 Whatever your SEO strategy is, one thing is certain: You want to be able to track your progress. You should be able to tell if you are making any headway or not. SEO metrics are the perfect tools that show you just what you need to see.
In this article, we will point out some of the most important SEO metrics that help you keep track of your SEO progress. They will guide you in the right direction, helping you see if you need to continue with your strategy or to change and develop a new one. Without further ado, let us dive into the details.
Why are metrics important?
Measurement and management work hand in hand and there is no possible way to manage something that you cannot measure. As you work on your website and carry out all the necessary SEO activities on it, you want to ensure that you can track your SEO performance as it tells you if you are on the right track or not.
Without paying attention to the key metrics, you cannot tell if your money, time, strategy, and other resources are making an impact on your website as much as you want or hope.
Another terrible effect of ignoring crucial SEO metrics is that it doesn't allow you to look out for more opportunities of growing your organic search traffic. The more a business lasts, the more it should seek further growth than where it was. If your website only consumes money and you cannot tell if you are growing or not, then you might be stuck in one position for too long.
Are all metrics important?
As much as you should make sure that you are tracking your website's growth to see if your SEO efforts are yielding any positive growth, you should also make sure that you are tracking only the crucial SEO metrics. Although all SEO metrics have a role to play, not all of them are crucial to your growth.
For example, why would you need to know the total number of clicks that your page got? First of all, clicks don't translate to leads and most definitely do not translate to sales. In fact, the number of clicks is as useless to you as not checking your website at all.
In this case, what you might be interested in is the number of organic traffic that came to your site through those links. The bottom line is that not though you need to constantly look out for SEO metrics, not all of them are important to your growth.
Key SEO metrics you should track for website success
To be able to tell that your SEO efforts are going in the right direction, you should be able to interpret and report the following SEO metrics. Having described the importance of tracking SEO metrics, we should now move on to the flesh of the article that you have been waiting for.
1. Keyword rankings
When you publish a piece of content, you aim to ensure that the page is indexed by Google and ranks somewhere that searchers can find it. The keyword rankings metic tells you exactly where your page is ranking on the search engine. With this knowledge, you can decide to either optimize it or leave it just the way it is, depending on whether or not you're satisfied with the position.
2. Organic traffic
At Milia Marketing, we always say that the most important kind of traffic is organic traffic. This is because organic traffic shows you that your SEO strategy is working just fine. Organic search traffic is gotten from users who find your website as they search for a keyword that you're ranking for.
Note that every web page ranks for more than one keyword, which means that you may be ranking for keywords related to the one you want to be ranking. At the end of the day, what you want to achieve is getting visitors to your website who find your pages and content useful.
3. Click-through-rate (CTR)
The Click-through rate is different from "total clicks." We are putting this out just because you might be wondering why it is here since we already mentioned that clicks do not matter. Click-through rate is the percentage of clicks on your individual pages based on the number of searchers entering the SERPs (search engine results pages) where your page appears.
If 100 people enter a search term and land on the google search results page where you are also ranking and only two out of those hundred people end up clicking on your page, it means that your CTR is just 2%, which is very poor. CTR helps you know your search visibility on results pages.
4. Conversion
Conversion has almost nothing to do directly with how you appear on search results. Conversion is determined by what the users end up doing on your website after landing on it. Do they click on the links you suggested? Do they buy your products? Do they share your posts? Do they submit their emails for you to contact them later? These things are and more are what conversion represents.
The level of authority your site has in the eyes of Google says a lot about how well you will rank for keywords. Your domain authority is ranked by how authoritative your site is based on your niche. Your website's domain authority is ranked by certain factors and they include:
Number of incoming links to your website
The quality of the incoming links
The quality of your content
SEO performance in general.
From the looks of what is above, combining the domain authority metric with a few other SEO metrics alone should be able to show you how your site is performing.
6. Pages per visit
While it is important to know the search volume for every keyword you target, you should also be able to study the pages every visitor that enters your website visits. Do they move from one page to the other by clicking on internal links? How many pages do they enter per visit? These will help you see if you are correctly guiding them down the funnel.
7. Number of indexed pages
Search engines need to index your page for you to be able to app[ear anywhere on the SERPs. You can create the best content ever but without properly indexing your page, you will never be found.
Google search console helps you locate all pages that are not indexed by Google, helping you to properly optimize your website. To give your pages a chance at getting indexed, you should submit the site map, merge weak, related content into one, and update outdated content.
8. Bounce rate
Even if your site ranks on the first page, there is still a chance that your visitors will not stay too long on your web page. If this happens too frequently, Google assumes that you are delivering low-quality content and sooner or later, your page would be sent to the bottom of the barrel.
Bounce rate also signifies the page where most of your visitors end up leaving your site along a funnel (the exit pages). You should be able to see if there are errors on the exit pages or if the content you have on them is not properly written to engage with them. Once changes are made to that page, you should notice an improvement.
9. Page speed, crawl errors, and core web vitals
Google hates slow websites. Low page speed and crawl errors can send your website to the bottom of all SERPS for all keywords. Google is trying to keep the users satisfied and if multiple pages on your site take ages to load, Google assumes that you are not doing well enough.
Core web vitals was introduced by Google in 2020 but became a ranking factor in may of 2021. They are introduced to help site owners measure three things: interactivity, loading, and visual stability. These things translate to average page load time, site speed, and more.
10. Backlinks and referring domains
Remember when we mentioned that incoming links can boost your site's authority? Well, we were referring to backlinks. Backlinks from notable and high-authority websites help determine how your rankings turn out to be.
Note that backlinks need to be coming from high-authority sites to have any impact on your website. To acquire backlinks, one method that has proven so relevant for years is to find guest blogging opportunities.
Also bear in mind that the number of total backlinks is different from the number of referring domains. The number of referring domains refers to all the unique domains linking to your website. This means that you may have hundreds of backlinks from the same website and not have a DA as high as another site that only has 10 backlinks from 10 unique domains.
Key SEO metric tools to use for tracking website progress
We have looked at every important SEO metric that you should be tracking. How then should you track them? What tools are at your disposal? Below are a few SEO tools that can help you track all these SEO metrics mentioned above.
1. Google search console
Google search console is a tool, owned by Google to help site owners track the performance of their website and pages. Google search console shows you the user engagement metrics. It shows you how your pages appear in SERPs and the CTR. It is basically a free SERP analyzer.
2. Google Analytics
Google Analytics is another product that is offered by Google. Although, unlike the search console that only measures your site's performance against others on the results pages, Google Analytics helps you see everything that happens on your website.
Google Analytics helps you track all the top SEO metrics for each specific page that has a direct impact on your SEO rankings. Some of these metrics include bounce rate, pages per session, session duration, and more. It basically shows you everything that happens. Within your website.
3. Others not offered by Google
Most of the other metric tools not offered by Google are not free. Only Google products are. However, to create an SEO campaign that can stand the test of time, you'll have to pay for it at some points.
Sometimes, when the going gets tough, you might consider hiring a digital marketing agency to help you manage your website or explain to you what Google Analytics is showing you.
With these other SEO tools not offered by Google, you will not only be able to track your progress, but you will also be able to do other things like targeting relevant keywords, target keyword rankings before even writing the content, running SEO audits, creating optimized meta descriptions and other meta tags, checking ranking position, and very many more.
They help you create relevant content and show you organic search positions report with traffic data.
Some of these tools are listed below:
Semrush
Ahrefs
SurferSEO
Moz
Screaming frog and more.
The goal, at the end of the day, is tracking organic conversions and ensuring that your website is getting a chunk of the market share.
Conclusion
Your site content is what determines your SEO success and what the metrics show you. So, at every given opportunity, ensure that you create relevant pages, optimize your site to mobile search results, create relevant landing pages, get all your pages indexed, optimize your meta tag and meta description, and write content that matches the search queries.
Meeting all the above requirements will boost your visibility on Google, reduce bounce rate, help you win more referring domains, and improve the conversion rate of your landing page. Take the step now, get these tools, and track your growth.