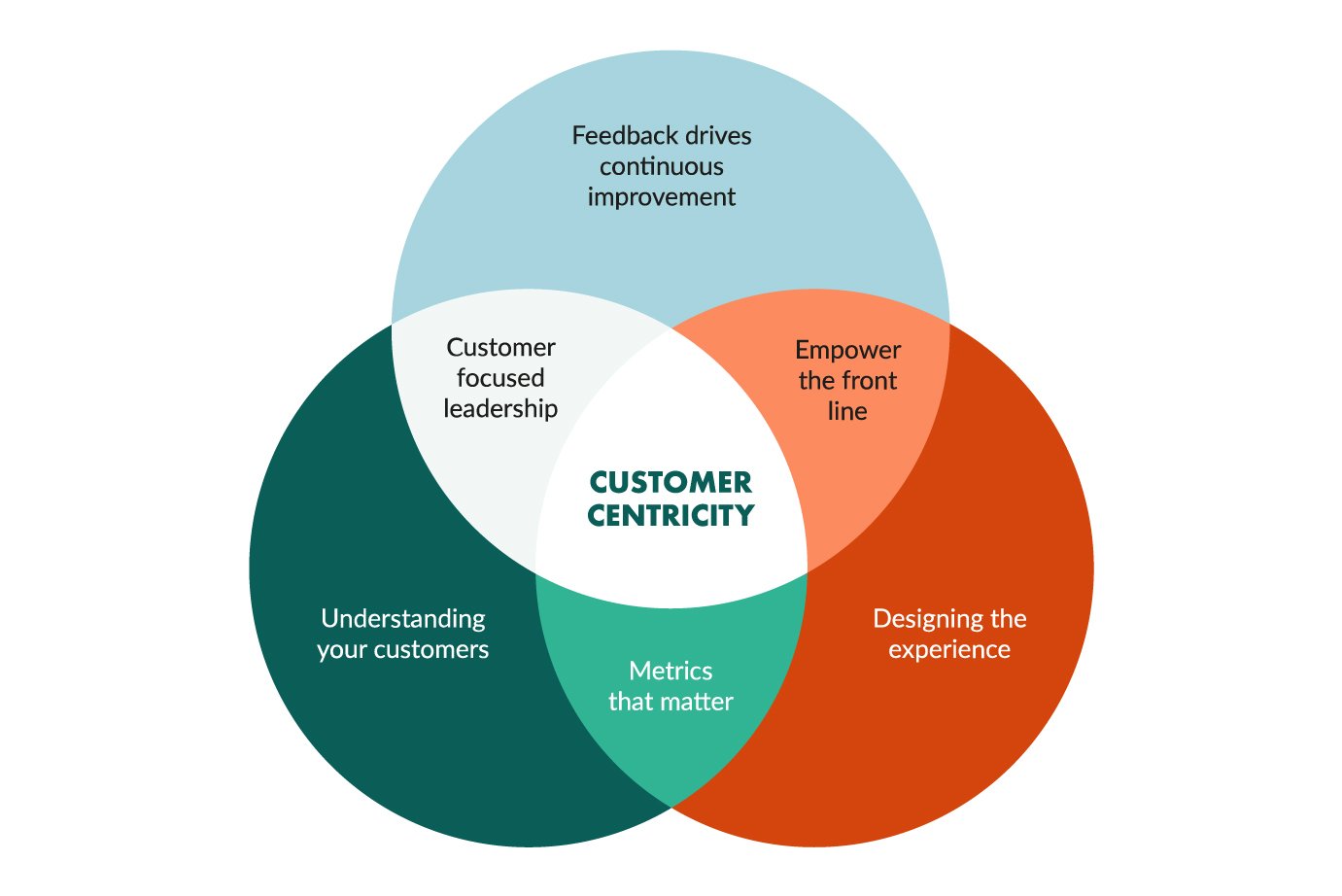 The business strategy referred to as customer-centricity is based on the idea of putting customer needs at the very core of a business's objectives to build trust and foster long-term relationships. A customer-centric company requires finding out what customers expect from a business in terms of productivity and it centers around taking active measures to figure out exactly how they hope to interact with your business.
How do you make customer-centricity a company culture? How do you ensure to create a positive customer experience throughout your organization? The idea is to create a customer-focused strategy for your business. The services of an experienced CMO are paramount to this super-effective strategy for your business.
Important steps to help create a customer-centric company
Having an excellent business structure and exceptional products without an effective customer-centric strategy can hinder a business from reaching its full potential. Data gathered from various organizational surveys show that businesses will most likely increase their profit if they can retain their current customers.
It was revealed that a 7% customer retention can invariably boost a company's revenue up to 95%. Which of course is a lot cheaper than the cost of bringing on new customers.
Read on to discover some useful customer-centric strategies to enhance customer experiences and improve your net promoter score and overall lifetime value.
1. Develop a closer understanding of your customers
For a business to succeed, it must adopt customer-centric thinking and focus on building customer relationships to delight customers and improve their overall experience. However, it's quite unfortunate that over 60% of marketing heads in executive positions don't realize the worth of their customers and are unaware of the fact that implementing customer-centric policies can help increase their profit margin considerably.
With the online shopping market gaining more prominence daily, customer centricity has become a crucial part of today's economical business strategy and with the constant increase in the number of people shopping online with their mobile devices, it can't be stressed enough how important it is to understand how your customers think, to serve them more appropriately.
One of the best ways to stay on track with various customer preferences is by utilizing CRM software. With the aid of this software, you'll be provided with a complete background and regional customer inclinations and preferences. In addition to this, other important details concerning each customer will be provided to assist you in reaching out to them more effectively.
2. Your company structure should be treated as an asset
A customer-centric strategy aims to bridge the gap between marketing teams and their target consumers. One of the key components to creating a prosperous customer-centric business involves placing value on customer happiness, not just your products or services.
The other aspect is to value your employees just as much, since fostering empathetic and meaningful relationships with customers can only be possible if these revenue-generating professionals feel the same level of care and concern. Only then can they provide an exceptional customer experience to make customers happy.
3. Invest in customer service
To become a full-fledged customer-centric company you shouldn't consider your customer service team as a mere cost of doing business.
True customer-centricity lies in the ability to see them as a means of attracting potential valuable customers as they are the ones in the position to truly understand customer needs. Although the support team is rarely ever given the credit they deserve, they are the driving force behind company growth.
This is why to build a successful customer-centric organization or online business you must invest the necessary time and financial resources in your support team as this motivates them to not constantly seek to move on to the next problem as soon as possible but to fill a void.
4. Customer-centric employees are a must
An organization that seems unapproachable to its customers won't truly be able to satisfy their needs. The first and most important step to becoming a customer-centric business is to hire and train employees with a genuine interest in customer service.
There's no point in selling something if you have no real understanding of its value, which is why it's crucial to have a customer-centric culture to be able to see your products from the customer's viewpoint and know-how to retain your existing customer base.
To be a fully functional customer-centric company, the marketing team and sales representatives must be brought up to speed through regular personal training and engagement programs to help improve their customer relation skills.
Aside from this, the marketing team, human resources, sales team, and customer support agents must collaborate and channel their efforts toward assisting customers with meaningful and effective solutions to facilitate customer loyalty.
5. Upgrade your staff
When considering potential hires, truly customer-centric organizations always make sure to select only those who share their company ideals and values. As such your team should only comprise individuals who have your customer's interest in mind and are enthusiastic about customer satisfaction.
6. Trust your team
Regardless of duty, most people like to feel a sense of importance in their respective positions in any organization. As such, seize every opportunity to empower your employees to hone their skills to enable them to make good independent choices to the delight of customers.
Having capable employees to interact with customers will create a sense of trust between your customers and your business which will certainly pave the way to organizational success.
7. Establish effective communication lines
Everyone must stay on the same page when resolving difficult problems as a collective effort is often the best way to put an end to such issues and this is only possible through good communication lines.
8. Be open to feedback
Customer-centric companies know the impact of customer relationships and customer feedback on the sales process. This is why it's important to structure your company from the perspective of your target customers to help deliver a much-improved customer experience altogether and become a revenue generator.
Also with the unrestricted accessibility and usage of digital technology in online blogging and social media, customers are at liberty to express their personal views and concerns about any particular product. Countless people are swayed by the reviews and feedback from other customers concerning a product or company.
As such, it's worth conducting surveys occasionally as this is a highly effective way to better understand the viewpoints and concerns of existing customers and to let them know that their thoughts are being considered which in turn gives them a sense of belonging and motivates them to become regulars.
9. Create a one-on-one customer experience
Most companies are unaware of the benefits of a personalized customer-centric approach. Personalized messaging has the potential to improve brand reputation and increase a company's customer retention rate significantly.
This is a very common occurrence since over 70% of customers revealed that they would most likely become returning customers to a company that recommends items for them to buy based on their previous purchase and/or remembers them by their names.
A highly efficient customer-centric business strategy is to personalize customer service to create positive experiences by categorizing customer data into special segments and sending out relevant content to each group.
10. Organize periodic outreaches
A great way to get in tune with your customers and gain a competitive edge is to host special events around your company's vicinity. This gives you the chance to engage with them on a personal level to provide you with a better understanding of how they feel about your company.
It's imperative to host such an event in a location best suited to connect you to your target customers as the whole endeavor might not be quite as effective in an environment that doesn't appeal to your intended audience. If it all plays out well, there's a likelihood that you'll come across prospective clients at that precise moment and this can often lead to repeat sales.
As for digital companies, one of the best ways to reach out to customers is by organizing webinars. This is a highly effective avenue for such businesses to communicate with their customers in real-time as all those in attendance will have the opportunity to voice their personal opinions, seek answers to any question they might have and let the company know what areas need to be improved.
11. Create a customer-centric culture by evolving with your customers
Customer centricity isn't a one-off endeavor, it's a continual process and a company that is genuinely concerned about the interests of its customers will evolve with the times both as an organization and with services they render.
By diligently analyzing current and future trends through post-purchase surveys, a company can effectively estimate where the market is heading and the possible impact such transitions can have on the consumer buying decision.
In an instance whereby there's no actual avenue to access customer feedback, companies can still keep up with the changes in customer outcomes and preferences by adapting their products and services to their patterns of usage. Non-technical industries can also predict the shifts in purchasing patterns by conducting marketing campaigns and staying updated with trend reports and customer interviews.
Social media has its many advantages, but the best thing about it is the unrestricted freedom users have to voice their opinions. Since a majority of the comments made on a company's profile stem from profound customer impressions about said company.
This is undoubtedly the best possible means for companies to gain a competitive advantage as they'll be able to see from their customer's perspective and know how to offer great customer service to get more happy customers.
Conclusion
The transition from a run-of-the-mill company to being a customer-centric organization usually takes time and quite frankly it might not be as easy as it sounds. However, this shouldn't discourage your efforts even the slightest as even the smallest adjustments and implementation of this policy can pay off significantly.
Don't forget to always measure customer centricity as you go. This helps to ensure that you know what you have done and what you have to do to drive customers through the customer journey you have created. Every existing happy customer is an asset and Milia Marketing can help you multiply the number you already have almost effortlessly.